Our Fursday Pet of the Week is Beatrice from Second Chance Pet Adoptions!
Today we're looking for a special listener for a special dog: Beatrice, a 5-year-old black and white pit mix. We rescued Beatrice from a county shelter after being absolutely dazzled by her pearly whites! She's such a happy girl, whether she's sitting quietly at your feet while you work from home or riding in the car on her way to a long hike. Beatrice has exactly one issue that's kept her from being adopted, which is that she is 100% the boss when it comes to other animals, so she needs a home with no other pets and an owner who will keep her safely away from any other cats or dogs. With humans, though? Beatrice is just remarkable—silly, snuggly, and smiley. Visit Beatrice at Second Chance Pet Adoptions, or learn more about her and apply to adopt at www.SecondChanceNC.org. You can also catch her on Instagram—her username is @AdoptPrettyBeatrice!
Visit Beatrice's profile here!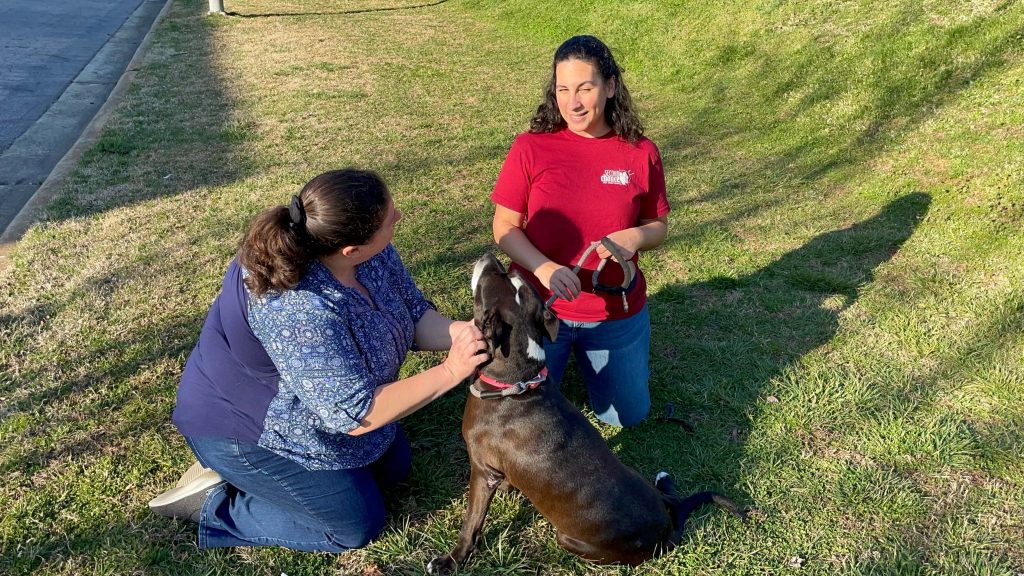 Touring Second Chance Pet Adoptions With Heather:
Check out these Second Chance Events:
March 6 | 1PM-2PM | Yoga With Your Dog!
Yoga instructor Adriana Ortiz invites you to an afternoon of flow with your pup on Sunday, March 6, for a good cause! Adriana will be instructing a BYOD (Bring Your Own Dog) slow flow class from 1 p.m. to 2 p.m. for all levels. The class will be held at West Street Dog; space is limited.
March 19 | 11AM-3PM | Dog Wash Fundraiser
Bring your dog to Unleashed and Second Chance volunteers will bathe your pup for you! Spare you knees, back, and bathroom by making a contribution to Second Chance (recommended $10 per dog) so more stray and abandoned cats and dogs can get their second chances to find love. Cash, check, and credit card are all accepted on-site; your dog can get a bath as a walk-in or you can make an appointment via our website.
March 24 | 7PM-10PM | Canes & Canines Night
Come out to PNC Arena see the Carolina Hurricanes and celebrate our canine friends (Second Chance will be on the concourse!). Join the Canes as they take on the Dallas Stars on March 24, 2022 at 7:00 p.m. A portion of each ticket purchased will be donated to Second Chance and to the SPCA of Wake County. Ticket prices have been reduced just for this special event, so get yours now HERE!
May 1 | 8:30AM-11:30AM | Racing For Rescues
Featuring separate, timed 5K races for runners with dogs and runners without dogs, a 1.5-mile walking course for people with or without dogs, and adoptable dogs looking to visit with YOU! This event is now a hybrid event! Folks can participate from anywhere in the U.S.!
Second Chance Pet Adoptions
6003 Chapel Hill Rd., Ste. 133
Raleigh, NC 27607
(919) 851-8404