Our Fursday Pet of the Week is Nesquik from Second Chance Pet Adoptions!
Meet Nesquik, this adorable 6 month old boy is looking for his forever home. Nesquik is a social butterfly and loves to be around people. He is the life of the party. Like all kittens Nesquik loves to play. You will almost always find him chasing a toy around the room. Or wrestling with one of his roommates. He is also very cuddly and enjoys being held. He does need to go to a dog free home. He MUST have another cat in the home. If there are no other cats he MUST have a home with children to keep him busy. If you think this adorable little boy is a good fit for your family come meet him today!
Visit Nesquik's profile here!
Don't miss Second Chance Pet Adoptions February Fundraisers:
Mookie's New York Deli Fundraiser: Mookie's New York Deli is once again hosting a fundraiser for Second Chance in celebration of their namesake's birthday! You (and your dog–they have a K9 menu!) can join the birthday pawty for their big Samoyed pup by ordering from Mookie's NY Deli on February 8, when 10% of sales will be donated to the cats and dogs in our care.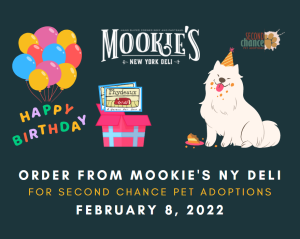 Papa Murphy's Fundraiser: Whether you're feeling ravenous or romantic (or both), Papa Murphy's has got you covered on February 9: using the code "DONATE," place an order for take-and-bake pizza (make it a Heart Baker if ya want!), mention Second Chance Pet Adoptions when you pick up the pizza, and Papa Murphy's will donate 33% of your order to the cats and dogs in our care!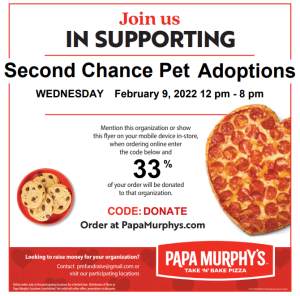 Second Chance Pet Adoptions
6003 Chapel Hill Rd., Ste. 133
Raleigh, NC 27607
(919) 851-8404