Our QDR Gold Star Teacher of the month for October is Shelby Gravley, a teacher at Oberlin Middle School.
Shelby was nominated by her husband Johnathan who says, "While Shelby is my lovely wife, she is also a fantastic teacher and coach to her students. Her countless hours spent to better her kid's education and mental health is unprecedented. Shelby wanted to be a teacher from an early age and was able to fulfill her dream of teaching in Wake County public schools. Shelby has coached Girls Softball at Oberlin Middle School since 2017 and has led the team to excellent success, including a conference title in 2020. Her athletes constantly praise her leadership and teaching abilities. Her students truly love her and often write to her after entering high school to tell her what an incredible impact she has had on their lives. One student took the time to reach out 3 years after leaving Oberlin to praise Shelby for her efforts in approving her mental health while she was her teacher. She stated that without Mrs. Gravley's help she would not be here today. This is by far my wife's greatest accomplishment of her teaching career. I love her dearly along with the kids she teaches, and no one deserves this award more than her."
Mrs. Gravley received a commemorative plaque from Creative Images in Cary and a $100 gift card from Crabtree, celebrating 50 years! Her picture will also be featured on the jumbo screen at Crabtree, just below the food court for the month of October!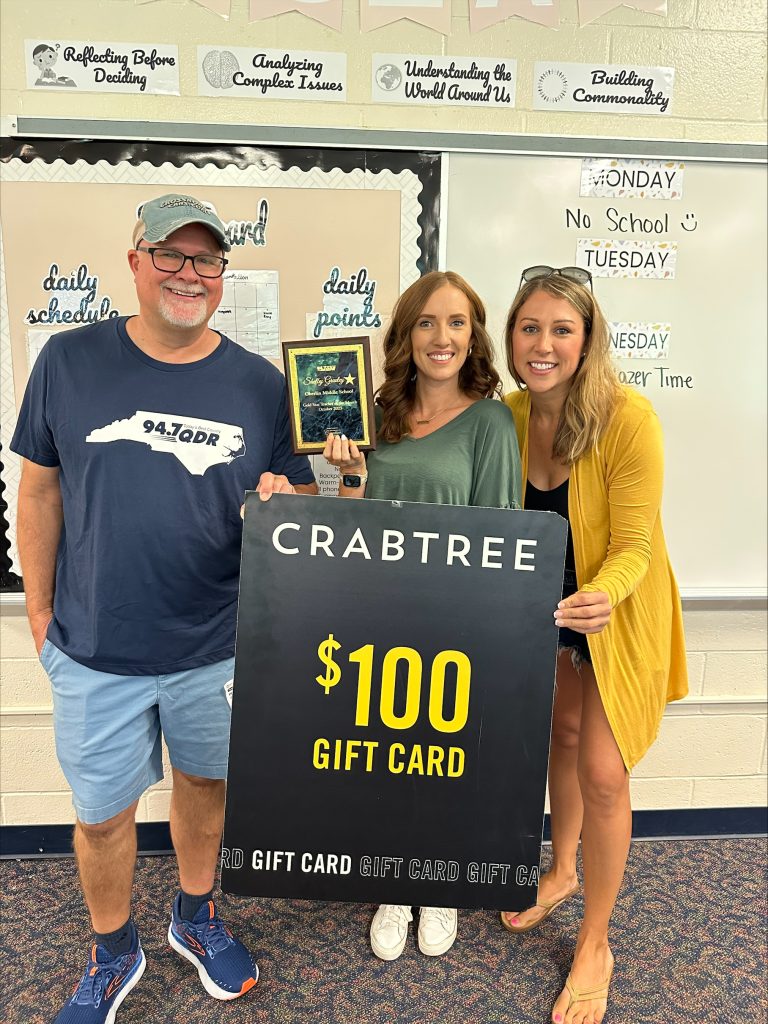 Want to nominate a teacher that you feel has gone above and beyond for their students? Click the button below to fill out our short form!