Our QDR Gold Star Teacher of the month for May is Coach Jackson Glascow, coach and math teacher at East Wake High School.
He was nominated by Angie Dawkins, a parent of one of his students who says, "I would like to nominate one of my daughter's teachers who deserves some recognition and was hoping you could help me do it. He is the epitome of what an educator should be. He has played a pivotal role in assisting my daughter with her issues in math from a bad sophomore year experience and now suffers with horrible test anxiety because of it. Unfortunately, one educator broke her spirit, but he is working with her to regain the confidence she lost. To give you an idea, he sat down with her and had a conversation one-on-one to find out what he could do to help and offer her guidance on her role in conquering this fear. He also called and followed up with me. He said I recognize the problem and together we are going to overcome it. He said I am lucky enough to have a great student like her for an entire year in class. He said I want to be a part of the solution to help her move past this and conquer it so she may excel and be successful. He said she has the drive and determination to do it and I am going to help her every step of the way. It is refreshing in today's world to know there are still educators out there with a passion to educate and want to see our children succeed. He is kind and approachable with his students. She trusts him and that speaks volumes. Lloyd Glascow is a teacher and a coach with East Wake High School. This is his last year of teaching as he has been promoted into an administrative role next year. I look forward to seeing how he influences other educators to be the kind of teacher he has been for my daughter in his new role. Our teachers don't get enough recognition for their time and attention they put into enriching our children's lives in a world full of anger and entitlement that they must deal with on a daily basis. Thank you, Coach Glascow, for your passion to teach and enrich our children! I am forever grateful. With that said…. I'm giving a shout out to Coach Glasgow for his amazing gift as an educator. He gives all his students 110% every single day. He is one of a kind and we need more like him!!! He has a true gift from God and I just thought he needed to know just how much he is truly appreciated."
Coach Jackson Glascow received a commemorative plaque from Creative Images in Cary, Carolina Mudcats Baseball tickets for the whole class, and a $100 gift card from Crabtree, celebrating 50 years! His picture will also be featured on the jumbo screen at Crabtree, just below the food court for the month of May.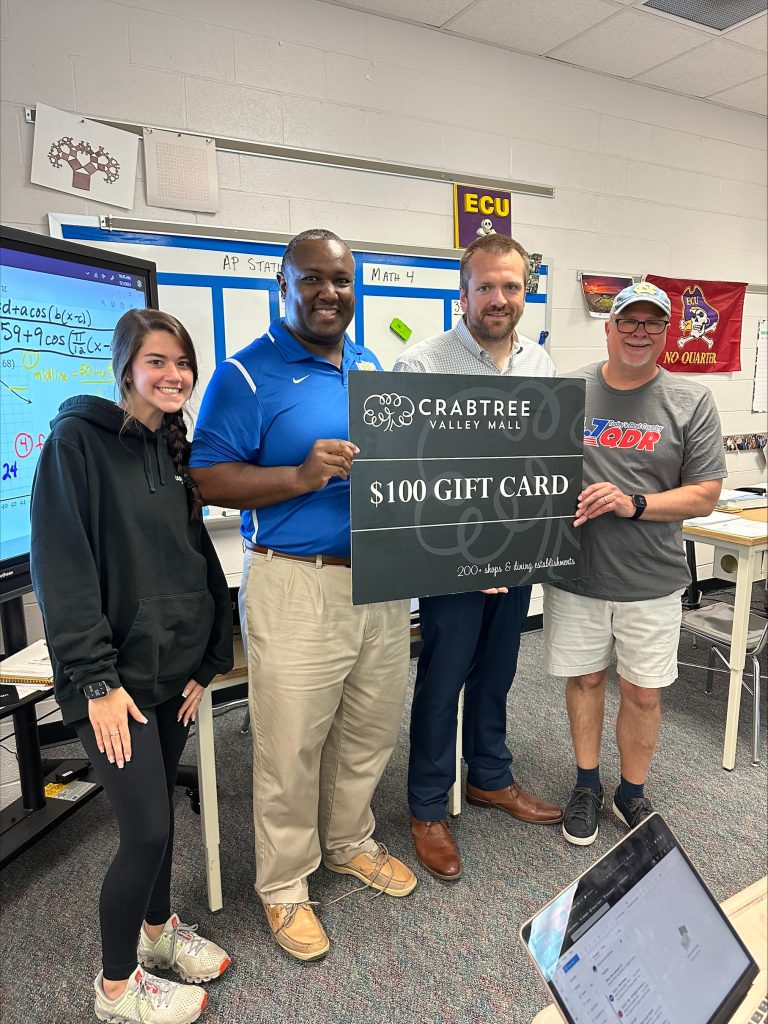 Want to nominate a teacher that you feel has gone above and beyond for their students? Click the button below to fill out our short form!