Our QDR Gold Star Teacher of the month for April is Mackenzie Jenkins, a 5th grade teacher at Thanksgiving Elementary in Selma.
MacKenzie was nominated by her mom Susan, who says, "MacKenzie started teaching at Thanksgiving Elementary last year as a fourth grade teacher. She was a teacher at River Dell Elementary right out of college and when the county opened Thanksgiving last year she was chosen to go to the new school. Last year she taught 4th grade and the students absolutely adored her. When some of her students found out this year she moved up to 5th grade they sent her messages telling her how happy they were to have her again as a teacher. MacKenzie is such an understanding and patient teacher and absolutely loves her students. She is constantly telling me about different students and taking the time to match her teaching plans to their individual needs. This year she is not only teaching but she is also in graduate school for counseling, she coaches soccer for NRFA girls and she is actually planning her wedding for October 2023. To say she has a lot on her plate is an understatement. She balances all these things but also makes sure to each student is enjoying learning. One of the parents told me last year that her son never really had an interest in reading until MacKenzie was his teacher."
Mackenzie received a commemorative plaque from Creative Images in Cary, Carolina Mudcats Baseball tickets for the whole class, and a $100 gift card from Crabtree, Celebrating 50 years! Mackenzie's picture will also be featured on the jumbo screen at Crabtree, just below the food court for the month of April.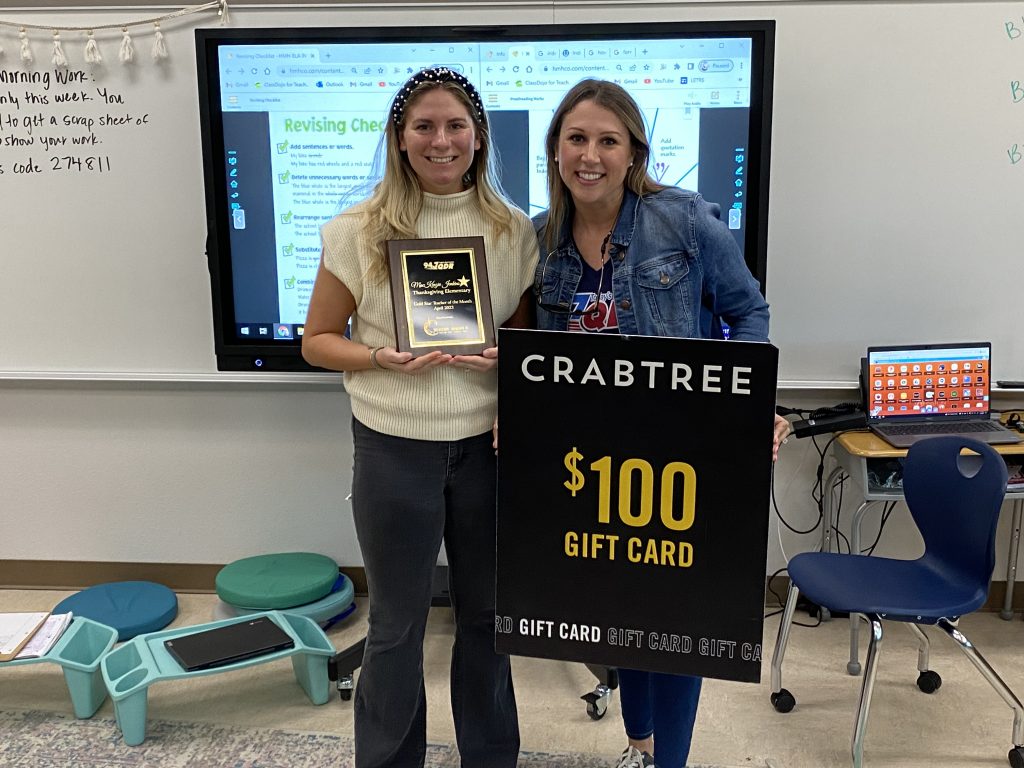 Want to nominate a teacher that you feel has gone above and beyond for their students? Click the button below to fill out our short form!