Our QDR Goldstar Teacher of the month for February is Doug Veeder, social studies/math teacher and football coach at Apex Middle School. 
Doug was nominated by his wife Stephanie, "Mr. Veeder is one in a million! He graduated from elementary school with his students when he realized how hard it was for them to transition to middle school from elementary. He wanted to be warm, welcoming, supportive teacher and friendly face to help smooth this big change for all incoming middle schoolers, and that is just what he is! Mr. Veeder is a sixth grade social studies teacher and head football coach at Apex Middle School. His big red truck is seen outside the school from 7am until 7pm most nights, and he spends his weekends watching his current and previous students swim meets, football games, and theater productions. When he taught math, he would spend his evenings explaining new concepts and soothing the tears of struggling students. His heart, time and life has been dedicated to children and families throughout his whole professional career. He is well known for his annual letters to all of his previous classes wishing them the best for the holidays, struggling through COVID or even graduations. These emails go to the parents and the students annually so they know he is always one of their biggest fans! During virtual learning, Mr. Veeder got creative to make learning fun and engaging and help his students feel connected with fun trivia, Kahoot challenges, and Friday dance parties. He is always available for 1:1 support with learning or just as a listening ear. Mr. Veeder lives to see his students progress and succeed and his investment in their futures is what often inspires them to work hard and try more because they know he cares!"
Doug received a commemorative plaque from Creative Images in Cary and a $100 gift card from Crabtree, Celebrating 50 years! Doug's picture will also be featured on the jumbo screen at Crabtree, just below the food court for the month of February.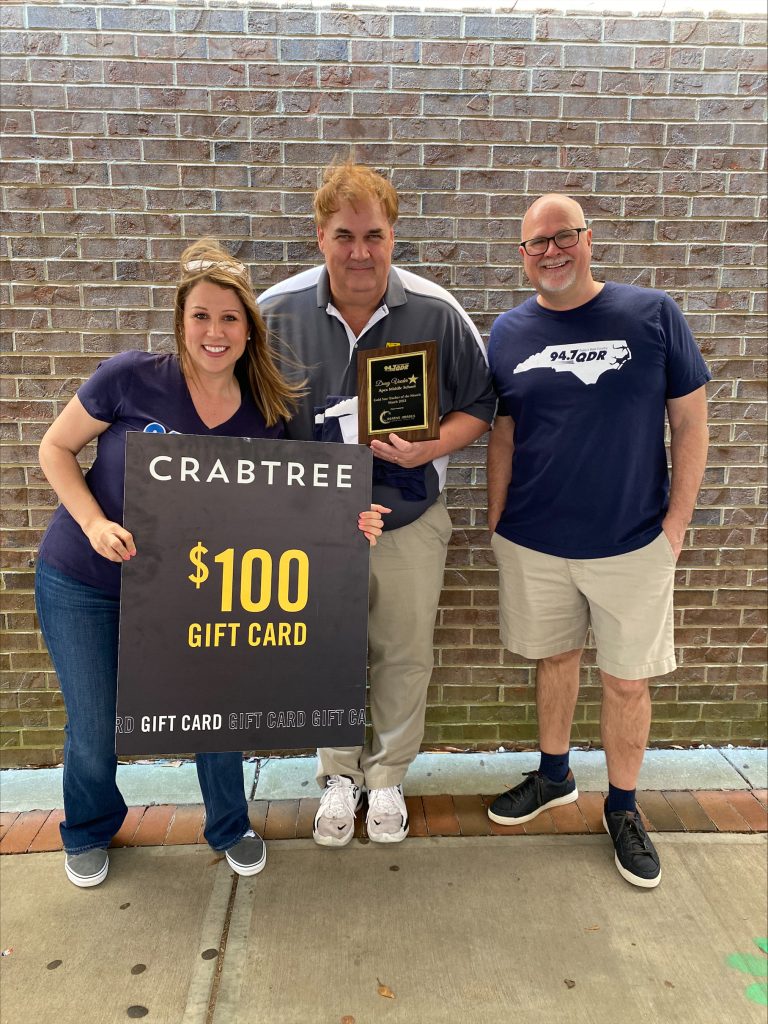 Want to nominate a teacher that you feel has gone above and beyond for their students? Click the button below to fill out our short form!