We are so excited to feature ELI, a loveable, snuggly, cat.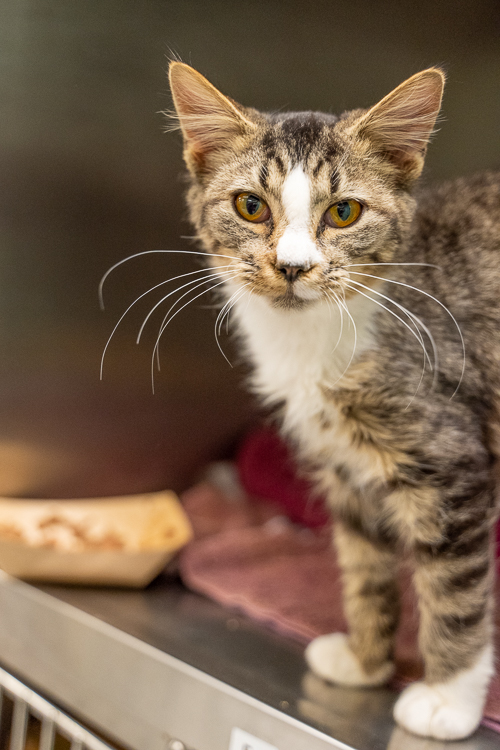 Photo credit goes to Cathi Bodine.
Eli is a young boy, approximately 4-5 months old who loves to play. He loves treats and will do almost anything for one! He is sweet and playful guy with a zest for life.  Even though Eli has tested positive for the Feline Leukemia Virus (FeLV), he is capable of living a full, healthy life. This virus can suppress his immune system, potentially making him more susceptible to other infections. While there is no cure for FeLV, with regular veterinary care cats can go on to live a relatively healthy and long lifestyle. The disease can be transmissible to other cats, but not to people or other species. Ideally, FeLV-positive cats should either live with other cats that have tested positive for FeLV to reduce the risk of spreading the disease or in a single cat household. Thank you for considering opening your heart and home to such a darling young boy as Eli.
We are excited to offer all of our adoptable dogs and cats for $50 this month during Clear the Shelters. Our medical investment in adoptable animals is approximately a $600 value, and includes that all cats/dogs are: spayed or neutered; microchipped; fully age & species appropriately vaccinated; medically and behaviorally assessed; given parasite treatment, control and prevention; and given lots of love and socialization from our staff and volunteers. So what are you waiting for? Come on out to APS & add a little more love to your home!
Animal Protection Society of Durham
2117 East Club Blvd.
Durham, NC 27704
(919) 560-0640