Our QDR Hometown Hero of the week is Thomas Anderson, retired Lieutenant at the Ventnor City Fire Department in Ventnor, New Jersey and is now living in North Carolina.
Thomas was nominated by his son, Tom, who says "Thomas dedicated 30 years of his life to the V.C. Fire Department and retired as a LT after 9/11/01. In his eyes, he'll never be a hero – he just got to do what he loved for 30 years of his life. We have included a picture of Thomas and his Engine company right after 9/11/2001 as they worked at ground zero. Thomas said that "it is a day that will Never Be Forgotten, a day that rewrote our kid's History books." His son continued to say that "to my dad, that day was his worst nightmare. A day where he lost friends, colleagues, and brothers. He retired shortly after September 11th and moved to North Carolina to be closer to me, my sister, and his grandkids."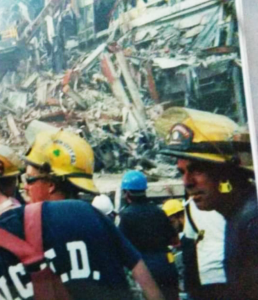 Welcome to your new home here in Knightdale, Thomas. Regardless of where you served your community you are a certainly a Hometown Hero to all of us here at 94.7 QDR.

As a token of our appreciation, we're sending you a $50 gift card to Smithfield's Chicken 'N Bar-B-Q to thank you for all you do!
Want to nominate a Hometown Hero? Click Here!